Last Updated on March 29, 2021 by Larious
Infinix Mobility was founded in the year 2013, and for the past 4 years, the company is actually committed to delivering a cutting-edge technology and fashionably designed dynamic mobile devices. The Infinix brand has become a popular smartphone brand in Africa, mostly in Nigeria. They are known for it's exclusive sales on platforms like Konga and Jumia, the device has become a favorite of many Nigerians.
Infinix Mobility Africa's leading smartphone brand is making customers and fans aware of new trends in Nigerian Market based on the recent fake infinix zero 4. The brand has uncovered the sale of FAKE Infinix Zero 4 smartphones by unauthorized dealers/retailers to customers. This 'FAKE' Infinix Zero 4, which are sub-standard phones, are harmful to customers and those around them.
The fake Zero is said to be around unauthorized outlets. please for safety, if you see any outlets selling the fake, don't hesitate to blow the whistle #spotthefake
The FAKE phones can be identified by features such as the camera and earpiece location, UI (XOS), OS and more, which can easily be spotted. Also there is a major price difference as the FAKE smartphone prices are almost half the price of the Original smartphone from Infinix. The differences can be spotted in pictures above and below:
HOW TO KNOW IF YOUR INFINIX DEVICE IS FAKE OR ORIGINAL
Infinix has created an online platform that helps you verify if your Infinix smartphone or battery is genuine. The online platform enables users to check if their Infinix phones and batteries are fake or original. Nowadays, product imitation or clone by China are very unavoidable in the market.
Most especially when the product is from a popular brand. Infinix devices are widely used around Africa and known for making cheap, affordable and durable smartphones.
The platform allows you to input the IMEI and VC number of your Infinix smartphone phone. (You can get your device IMEI on your purchase box or dial *#06#. For the VC number you have to check on the battery or phone itself. It is usually below the battery compartment.)
Once you input the two and submit, Infinix will let you know if the device is genuine or not. You can also do the same for your battery (The battery verification works with only the IMEI and no VC number).
How to Verify if your Infinix smartphone and battery are genuine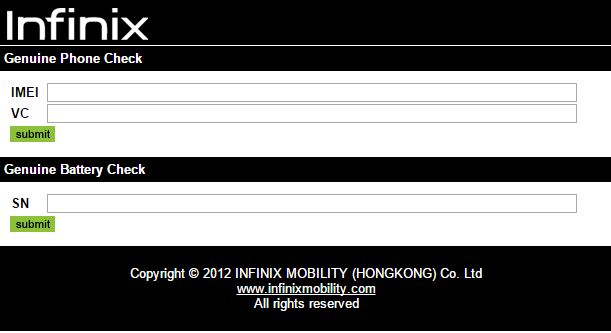 Login into the Infinix Verification tool 
Insert your IMEI and VC number
Get your 15 or 16 International Mobile Equipment Identity (IMEI) number. You easily get your IMEI number from your phone package, or by dialing *#06#. Your VC number, which is located on the battery label or phone label.
Submit and wait for results.
Infinix will review it and then give you a result concerning the originality of your smartphone and the battery.
I hope the information above would help the infinix users to be more careful when buying cheap infinix devices. Also be smart, before you pay for any infinix device, always go the infinix verification site and confirm the device originality before paying.
I know you want to buy cheap phones, well be careful, you are aware of the fake yet you can still choose to buy them based on the fact the Nigerian economy is terrible.