Last Updated on June 6, 2019 by Larious
Top 8 Real Time GPS Tracker For Cars Compatible With Android Devices – We face many dangers every day. May it be at our house, workplace, or on the road. As drivers, we are very much concerned about our safety and that of our family. In that case, GPS trackers play an important role to ease our worries.
No, GPS trackers aren't just implements used by spies and criminals; it also offers a level of protection for your car.
For starters, Global Positioning System (GPS) trackers are portable devices which can monitor the activities of anyone or anything that has it. GPS trackers for cars can do more by providing real-time speed and location data.
How Does a Car Tracking Device Work?
Just like a built-in navigation system or a GPS navigation app, a GPS tracker for car uses a process called trilateration to know the location of the vehicle based on its distance from three GPS satellites circling above.
However, unlike the in-car navigation system which only provides your location and driving directions, a GPS tracker for car also records your direction of travel and travel speed as well as broadcast your location in real-time to your computer or mobile phone.
This is great for tracking not just your car's driving history, but also its current location – say, if you forgot where you parked.
Top 8 Re

al Time GPS Tracker For Cars
If you have decided to integrate a GPS tracker for your car, you might realize that choosing the best one among a slew of tracking devices available in the market is harder than you expect. Lucky for you, we've got you covered! Here are 8 of the best GPS trackers for cars:
1. Spy Tec STI GL300 Mini Portable Vehicle GPS Tracker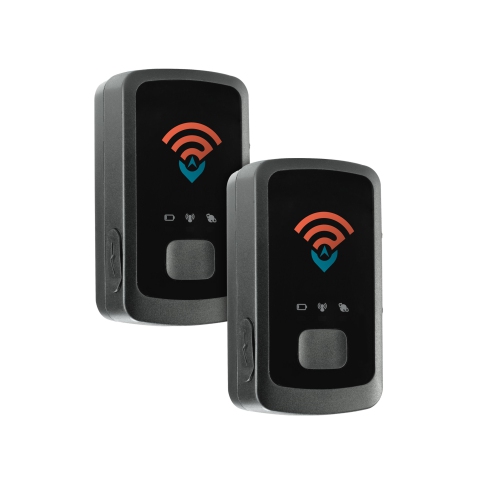 The GL300 GPS Tracker from Spy Tec has the most positive reviews among all tracking devices available in Amazon. No wonder, it is considered the best-selling tracking device in the online shopping platform.
A very compact tracking device, the Spy Tec STI GL300 Mini is roughly the size of a matchbox, measuring only 1.5 x 0.9 x 2.7 inches. With the benefit of placing it anywhere inside your car, thieves will have a hard time locating this GPS tracker and won't suspect that you have one. It also sticks to any metal surface using magnets.
The tracker connects with Google Maps to provide real-time location data over the Internet with a very high accuracy regardless of its minute size. Location updates can be provided as often as every five seconds.
Powered by AA batteries, you have to check the battery level from time to time. While Spy Tec claims a two-week battery life, some users reveal that actual battery life varies. You can opt to purchase a six-month battery to extend the tracker's battery life.
2. MOTOsafety GPS Vehicle Tracker
MOTOsafety GPS tracker is recommended for the parents of teenage kids. It helps the parents to easily monitor the driving habits of their minor children by recording, not only the vehicle's location, but also the car speed, harsh braking, and rapid acceleration.
At the end of the day, the parents are encouraged to review the teen's "report card" generated based on his or her driving habits such as speed, braking, and acceleration. It also alerts the parent if the vehicle is still used past the curfew they have set.
MOTOsafety can be plugged directly into the diagnostic port without the use of wiring. It uses a wireless 3G network to transmit data and has a downloadable Android app for the user to track the car's location in real-time.
3. ABLEGRID GPS Vehicle Tracker
The GPS Vehicle Tracker from ABLEGRID was lauded as the tracking device with the longest battery life. Thanks to its 3300mAh powerhouse, the ABLEGRID GPS offers two weeks of continuous usage and 180 days of standby time before needing a recharge.
While it's quite bigger than its rivals at 4.0 x 2.2 x 0.9 inches, the ABLEGRID GPS tracker is still compact enough to be placed in areas in the car that are difficult to detect. It can also be easily swapped between cars as there are no wires required for installation.
The tracker records the vehicle's travel routes and accurately pinpoints its location in real-time using Google Maps. It only supports wireless 2G networks albeit it offers similar tracking ability as those devices using 3G networks.
4. MasTrack Real Time GPS Vehicle Tracker
A premium tracking device, MasTrack offers a slew of outstanding features. Due to its internal battery backup, the GPS tracker can give you real-time updates 24 hours a day, 7 days a week. It has a nationwide coverage in both Canada and the US.
Among the extraordinary features MasTrack has to offer is recording the driving habits of the current driver such as harsh braking, rapid acceleration, speeding, excessive idling, voltage, and ignition status. Information will be sent to a connected computer or mobile device.
You can plug it directly into your car's OBD port with no wiring required. Beyond installation, the GPS tracker makes it easier for parents or employers to track their children and employees respectively.
5. Mileage Ace Car GPS Tracker
As what its name suggests, Mileage Ace GPS tracker is more focused on recording mileage logs. The recorded information is found nearly accurate with the vehicle's odometer.
Once the engine is switched on, the Mileage Ace tracker starts to work. Each trip made by the car will have the start and end times, start and end locations, the exact miles driven, and GPS-tracked path recorded on the mileage log.
6. Optimus 2.0 GPS Tracker
Also a very compact tracking device, the Optimus 2.0 GPS tracker is easy to place inside the car and is difficult to find. It can be mounted through magnets so that it can stick in any metallic surface you want to put it on.
Perfect for secretly tracking a vehicle, the Optimus GPS tracker syncs with your personal account and provides a routing feature for licensed private investigators. It can send information to your computer and smartphone.
7. AMERICALOC Mini GPS Tracker
Opposed to its name, AMERICALOC Mini GPS Tracker works in every country in the world, not only in the US. What's interesting with this tracker is that it can provide real-time location data as well as 1 year of historical information.
You can choose to configure the gadget to transmit data every 10, 30, or 60 seconds on your computer or smartphone. It also sends alerts when the battery is getting low and information about your speed and the time when you left a certain area.
Aside from its portability, the GPS tracker boasts having a very long battery life and ability to recharge in a small period of time.
8. Vyncs GPS Tracker
The Vyncs GPS tracker is a mid-range tracking device that uses either 2G or 3G network connection in transmitting data. Notifications can be sent through email or SMS.
It can provide information regarding location, fuel economy, speed, braking, acceleration, and many more. It keeps an accurate record of the user's driving habits which can be reviewed.
CONCLUSION:
Tracking devices aren't just used to spy on someone the wrong way; it can also serve as a protection to yourself and to others under your custody against the hazards on the road.
With all the benefits mentioned above, we bet that you're now interested to grab your own GPS tracker and start monitoring your driving habits as well as your employees' and teenage kids' activities so that you can give them helpful advice and instructions.
Do you still have some questions running through your mind? Do you already have a tracking device on your car? How does it work for you? What do you use it for? Share with us in the comments!