Last Updated on September 21, 2018 by Larious
Get hooked and addicted to high definition sound quality with the F&D E200 Soundbar. This speaker comes with exciting features such as 1 year warranty, single channel output and much more at just N16,500.
Design
F&D E200 Soundbar is a bit long but it is portable enough to carry around with you. The speaker weighs less than a kilo and has great design & stylish looks. The construction quality of this portable soundbar is very good and it feels solid at all angles. The two stands at the bottom have rubber pads which prevents it from slipping and gives the soundbar a firm grip on the surface.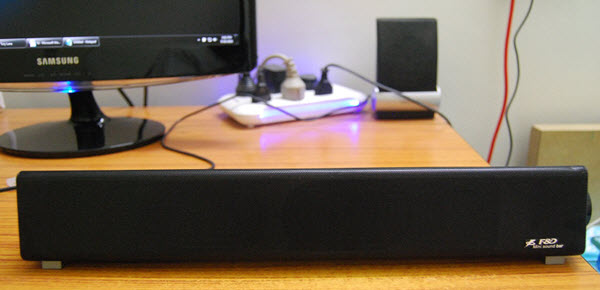 Sound Output & Performance
This is a 2.1 channel soundbar that has 2-inch drivers which produces a total RMS Output of 3W. The sound quality is excellent and the speakers are pretty loud too. The bass is decent & sufficient and not too deep which you found in the speakers having a separate subwoofer unit. This soundbar is great for listening music and watching movies as this speaker produces crystal clear vocals. The sound quality of this soundbar does not distort even on full volume which shows the high quality of its speakers. You can use this sound bar with laptop, desktop PC, mobile phone, TV, mp3 player, audio player or anything having a 3.5mm jack.
Features & Connectivity
This soundbar has a standard USB connector which you can plug-in your computer USB port, power adaptor or power bank. There is a ring of red LED light around the volume control knob which glows when you plug-in the USB connector in the power source. The soundbar has a standard 3.5mm jack input cable that you can insert in your computer, mobile phone, music player etc. for music playback.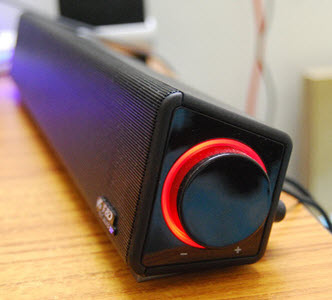 There is also a 3.5mm headphone jack where you can plug-in your headphone or earphone for listening music privately. There is no FM or Bluetooth connectivity in this soundbar. If you want Bluetooth connectivity then you can buy its higher model which is F&D E200 Plus.

Sound Quality
The F&D E200 Soundbar has a 2.1 channel output which offers you one of the best sound qualities in its range. You can connect this speaker to a wide range of devices and enjoy hours of high definition music.
Place the E200 on your TV table to hear what's happening on the news clearly.
Specially Designed Sound
Integrated with this 2.0 speaker is a passive radiator which ensures that you feel the bass' thump from your favourite hip hop tracks.
Powerful and User-friendly
The E200 produces sounds at a maximum output level of 3 watts, so tunes will be more than just audible. You can power this speaker with a USB cable or with the 5V external adapter. Adjust the volume by turning the volume knob on the side of this soundbar.
Easy to Pack In
Thanks to its compact, ergonomic design, you can toss the E200 into your bag while travelling to carry it with ease.
Headphone Jack
Use the headphone jack to listen to metal music without troubling the pop crowd that surrounds you.
F&D E200 Soundbar Specifications
Here are the complete specifications of F&D E200 Soundbar from Fenda Audio.
F&D E200 Sound bar Specifications
Dimensions
410×71×67mm
Output (RMS)
3W (total), 1.5W x 2 (2-inch drivers)
Frequency Response
100Hz to 20kHz
Features & Ports
3.5mm jack cable, headphone jack for earphones/headphones, volume control knob with red LED light as power indicator, standard USB connector for power
Power requirement
5V DC from Computer USB port or USB Adapter / Charger
Price: N16,500
Check here TO BUY ONLINE
Key Features
Comes with a free Sony Stereo Headphones
Easy to Pack In
Headphone Jack
Powerful and User-friendly
The F&D E200 Soundbar has a stylish and elegant design. The design of this speaker is not only a beauty on its own but also enhances the looks of its surroundings. Keeping this speaker in your room will make your room look more elegant and classy.