Last Updated on September 21, 2018 by Larious
Better home theater experience is here with the F&D F2300X 5.1 home theater with Bluetooth Speaker. Don't stick your speakers to a single place and now move on with the wireless facility. Simply connect to your speaker from anywhere. The speaker has excellent design as well as hard built quality. The speaker is compact in size. This is a 65W output 5.1 channel Bluetooth home theater speaker. Getting into the review of the F&D F2300X speaker.
DESIGN:
The F&D F2300X 5.1 Home theater speaker come with an External flared woofer design. It comes with a fully functional remote control, it has fluorescence feature which can be seen in the dark. The speaker looks decent enough with the black colored design. The controls are present on the right side of the subwoofer.
The front and center speakers look similarly, which makes it confusing to the customers like always.  The speaker's design is not just like a pro. It is simple. Even the subwoofer looks in the same way. It has the F&D branding on all the pieces. The USB and the SD card connectivities are available on the right side near buttons.
The F&DF2300X comprises of 5 units, one subwoofer, two front speakers and two center speakers. The dimensions of the subwoofer are 227x 286 x 223 mm. The dimensions of the front speakers are 104 x 75x 130 mm. The dimensions of the center speaker are 104 x 75x 130 mm.
SPECIFACTIONS:
F&D F2300X is a 5.1 home theater speaker comes with Bluetooth connectivity. The total sound output of the speaker is 65W. The front speaker's output is 8W x 2, center speaker 8W, surround 8W x 2 and subwoofer is 25W. Speaker output is 2 x 2.5W and subwoofer output is 4W.
The driver sizes are 3 inches for front speaker, center speaker, surround speaker and 5.25 inch for the subwoofer. Provided 1-year limited warranty. The speaker supports PC gaming. The stereo jack is also available. The frequency responses are Sub-woofer speaker- 40Hz~125Hz, Center speaker- 120Hz~20kHz, Front speaker-120Hz~20KHz, Surround speaker- 120Hz~20KHz.
It is provided with functions and they are Panel Keys (Standby, Source, Sound, Volume +/Volume-, Play/Pause/Pairing/Scan, Previous/Channel-, & Next/Channel+) and Remote control.
PERFORMANCE:
Experience flawless music coupled by easy steering. It is compatible with a lot of devices. The full fluoresce remote control allows you to operate your remote in dark lighting conditions. This is a portable5.1 multimedia speakers designed for all types of usage. It gives good volumes and amazing bass levels that you love.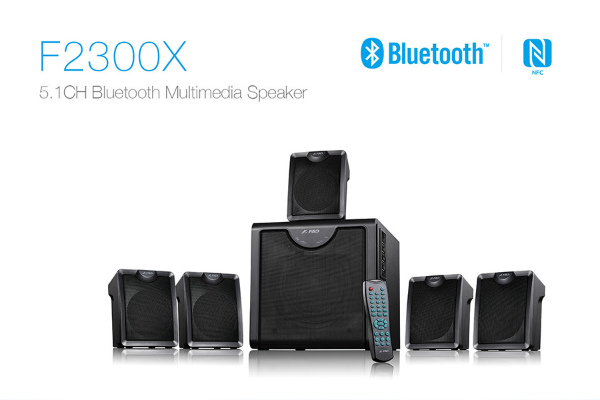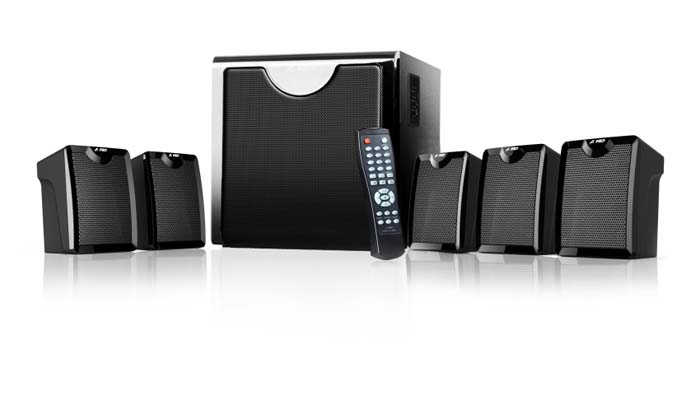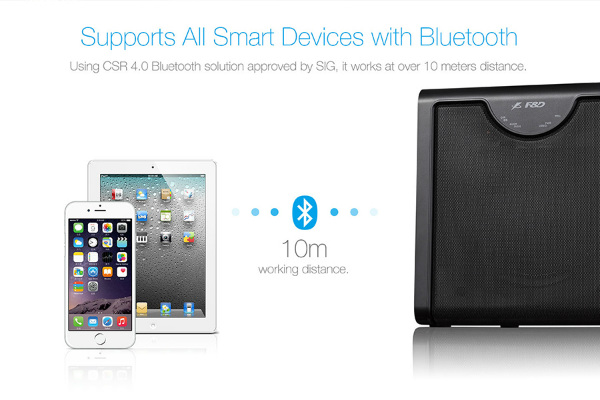 Aux and USB Port
The Plug & Play feature is possible due to the USB/SD card reader. You can connect your favourite playlist and party in style with non-stop music. This F&D F2300X 5.1 Home Theatre Speaker from F&D has AUX and USB ports. This enables you to connect it with various devices to watch videos, movies, pictures and even to listen to music stored in those devices.
NFC Connectivity
You can even pair your smartphone with this speaker system to wirelessly play tracks and freely move around your house without limiting your movement. All you need to do is just tap your NFC-enabled smart device to this speaker system to connect the two and get ready to groove.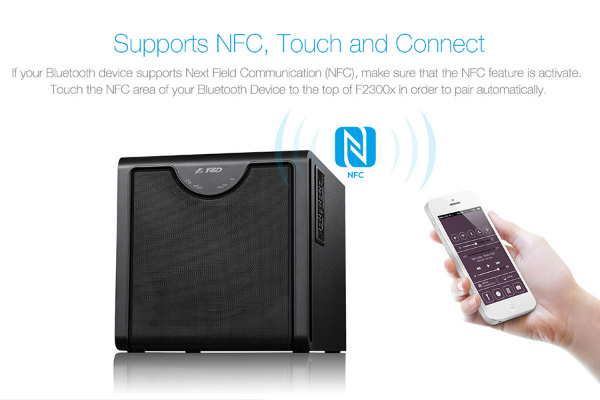 Sound Quality
The speakers of this home theatre system do not fail to impress. This F&D F2300X 5.1 Home Theatre Speaker provides booming sound quality with its 6500 Watt power output. It is equipped with speakers with excellent sound output and the subwoofer excellently accentuates the bass. The subwoofers of this home theatre system also promise brilliant performance along with quality.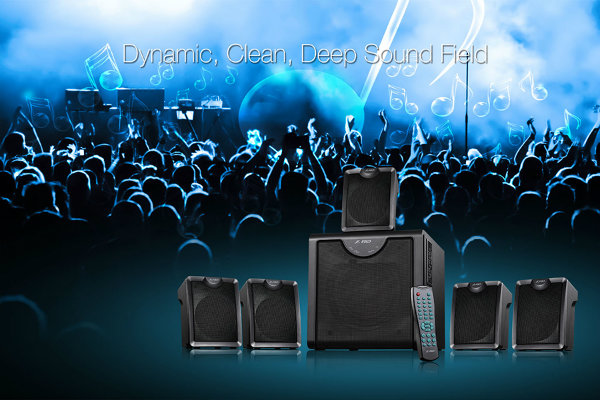 Technical Features
The Total Power Output RMS (W) is 65 W and the Max Output RMS, per Satellite (W), is 8 W. The Max Output RMS for the Subwoofer (W) is 25 W and the Max Output RMS for the Centre Satellite (W) is 8 W.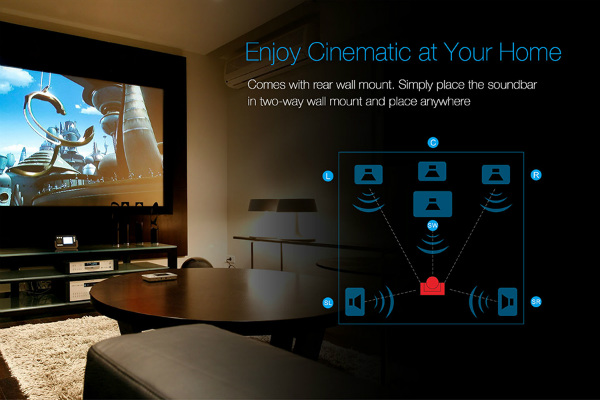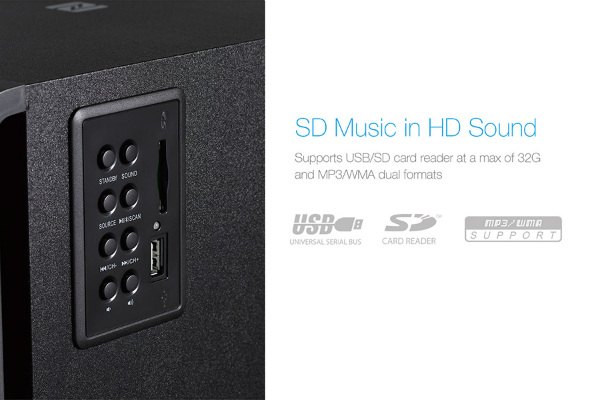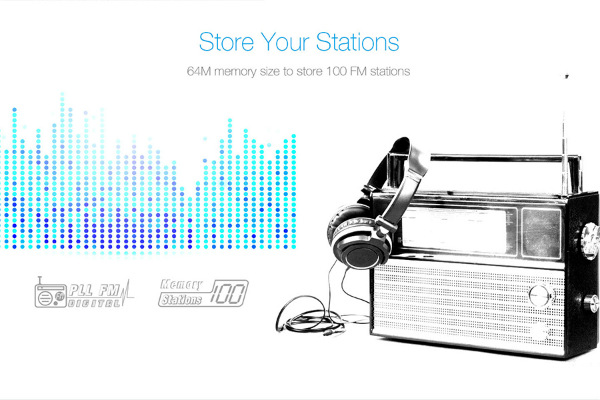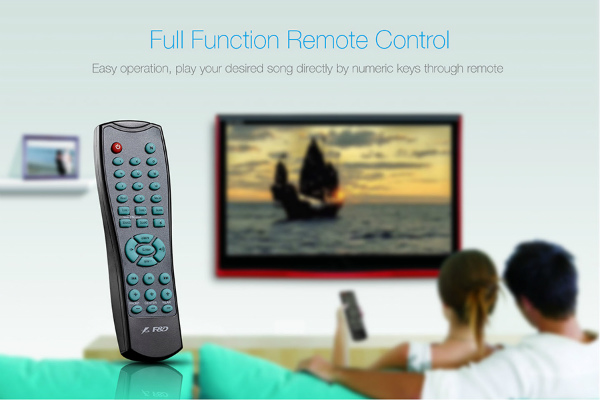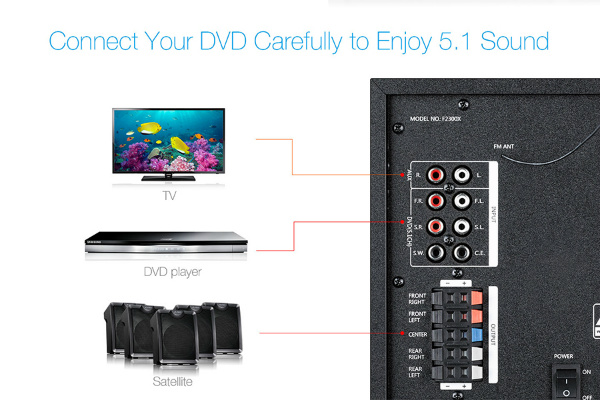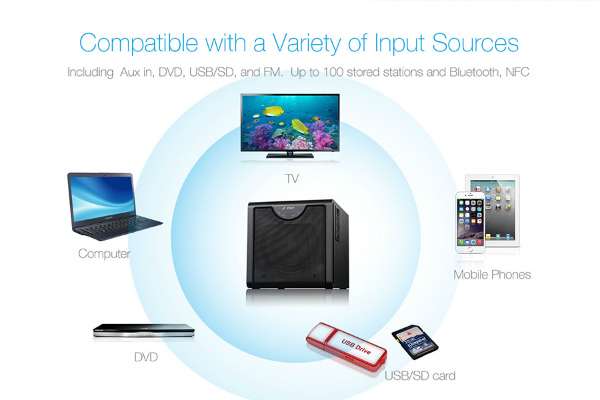 The 65W output is more than enough for a large living room. It gives exceptional sound quality. Fenda audio always gives mesmerizing music and this speaker does the same. Finally, the design is also good enough and makes it worth to buy.
FREEBIE: It Comes with a free sony stereo headphones.
VERDICT:
Enjoy the best sound quality with the F&D F2300X 5.1 Speakers. The speaker comes with an impressive audio quality which you would always love to listen. The price of the speaker is very less and affordable. The F&D 5.1 channel Bluetooth home theater speaker is available at a price of ₦43,700.00. CLICK HERE TO BUY ONLINE