Last Updated on October 3, 2019 by Larious
Top 8 Android Photo Video Locker Apps – Android devices are the major smartphones most people make use of, So this article is mainly for Android users that want to hide their photo's, videos and other private files.
There are personal pictures you probably don't want anyone to see. However, you can't always restrict your friends, family member or friends from going through your Android device.
In this scenario, we got no choice left apart from hiding those private photos & videos. Well, there are few tricks available on the internet which can help you to protect images and videos on your Android, but most of the methods don't work with Android Oreo or the latest Android Pie.
So, in this case, having a third party photo & video vault or a simple photo locker seems to be the best option. Therefore, in this article, we have decided to list out 8 of the best Android app that can help you to hide photos & videos at ease.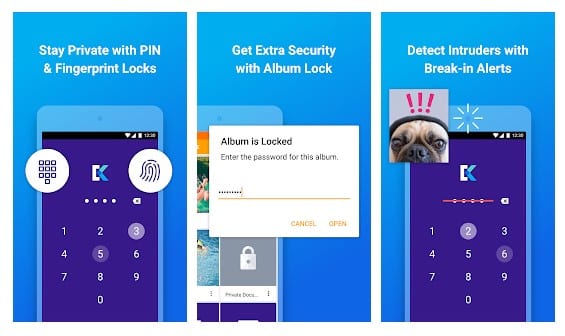 KeepSafe Photo Vault always stands out from the crowd due to its amazing offerings. The app is pretty much popular amongst Android users and it does a great job by hiding images and videos.
The great thing about KeepSafe Photo Vault is that it provides users PIN, Fingerprint, Pattern lock to hide the images and videos. So, whenever you need to access those hidden files, you need to access the Photo Vault and enter the Password.
Vaulty is another interesting app which comes with file locking features. It's also one of the popular photo vault available on the Google Play Store. The great thing about Vaulty is that it's capable to hide photos & videos directly from the Gallery itself.
Apart from all of these, Vaulty also comes with some added security features like it captures the photo of intruders after each failed login attempt. The app is completely free to download and you can use it without any limitation.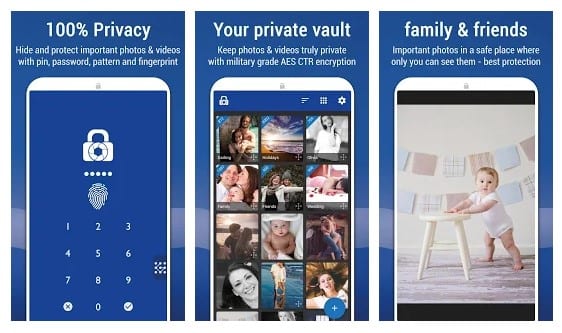 LockMyPix Photo Vault is one of the new Android security app available on the Google Play Store. The great thing about LockMyPix Photo Vault is that users AES Encryption standard which is very difficult to crack.
The photo vault allows users to set PIN, Pattern and Password lock feature to lock down photos & videos. Not just that, but the app also got the ability to capture the photo of intruders after every failed login attempts. So, LockMyPix Photo vault is another best app which you can consider.
Vault is another extraordinary app which you can use to hide photos & videos. Basically, its an all-rounder in its section and it can also hide your call logs, SMS, apps, and any other data.
The great thing about Vault is that it allows users to create multiple vaults. Other features of the app include hiding apps' icon, break-in alerts, etc. So, Vault is another best apps to hide photos on Android.
Hide Something is one of the most popular photo & video vault available on the Google Play Store. The great thing about Hide Something is that it creates an invisible folder on the storage which can be accessed only via Hide Something app.
After creating the invisible folder, you can protect it with PIN, Password, or Fingerprint Sensor. Not just photos and videos, you can hide any types of file formats on the invisible folder. So, its one of the best Android app which you can use to hide your private data.
#6 Gallery Vault
As the name of the app says, Gallery Vault is an app for hiding everything that you see on your phone's Gallery. The app allows users to choose files from gallery and stores it in the encrypted vault.
The interface of Gallery Vault is another notable feature of the app. The interface allows users to locate media files in the easiest way possible. Apart from all of these, the app also includes other features like shake to lock, fake login, stealth mode, etc.
#7 Private Zone
If you give importance to the Privacy, then you will love the Private Zone for sure. Apart from hiding images & videos, Private Zone brings in lots of other amazing features which could improve your Android experience for sure.
The app brings in lots of unique features like VPN service, Anti-theft, RAM manager, Call filtering, and some more features. Of course, the app does have a private vault which you can use to store almost every file types on your Android smartphone.
It's not actually a photo or video vault, but its a Gallery app in itself. Just like your phone's Gallery, Piktures for Android also brings all images and videos at one place.
However, the app houses a 'Secret Drive' feature which acts as a vault. Under the Secret Drive, you can store media files. You can't protect the Secret Drive since it's an invisible folder that the app creates. So, Piktures is another best Android app to hide photos and videos.
So, these are the 8 Best Android apps that can help you to hide photos & videos at ease. If you think that we have missed any important app on the list, then make sure to list it down in the comment box below.