Last Updated on March 29, 2021 by Larious
Top 15 Google Chrome Download Manager Extensions 2018 – Google Chrome to Speed Up Downloads by changing some Google Chrome settings to boost up your download speeds. So have a look on complete guide discussed below to proceed.
You must have read our lots of tutorials of Google Chrome that helps you to have better browsing. As there are lots of tweaks that you can implement in your google chrome browser. And today we are here again with a cool trick that you will surely love to try.
As you, all know that Google Chrome is one of the best browsers that are available right now. This browser just totally overrode any other available browser on the internet that could be insisted on as best browser.
The reason behind this is that the browser is fully accomplished with tons of features by the developers. This makes it really insane for the users to surf the internet as well as manage all their downloads and upload.
Talking about the download manager inside this browser, it is also extremely handy. While the inbuilt downloader is all good for the purpose but still there is the more tweaked and performance lifted downloaders available for the Google Chrome.
And we had selected this downloader on the basis of their user rating download rates and some of our personal experience. So have a look on complete guide discussed below to proceed.
15 Best Download Managers for Google Chrome to Speed Up Downloads 2018
Here in this article, we have listed all those best downloaders which the users can compile with their browser and get the flawless downloading with high-speed transfers. Just go and read out this article of you wish to go for any these best downloaders!
#1 Chrono Download Manager
This download manager tops this list because it has that extreme rich capability which makes downloading anything much like a fun. There are no issues, the speed just exceeds the peak levels and there are certainly no intuitions making the downloads go wrong.
This one much similar to the IDM which is the most preferred and suitable download manager ever. The multi-connections makes it true to boost the transfer speeds. Apart from that, the whole downloader is filled with so many advanced features.
For installing and changing this downloader inside the Google Chrome toy just need to do nothing as everything does automatic. Just ruin the zero and everything else would commit itself!
Other Features Of This Download Manager:
Highly customizable task filters let you group downloads by type, date, URL etc.
Batch descriptors help you download a range of URLs with pattern painlessly.
Naming Mask determines a file name for your download automatically by URL host name, sub-directories, referrer, date/time and much more.
Rule System uses programmable rules to set naming masks automatically for different downloads and to route your files to different folders.
The name of this downloader must be appreciated as it really well defines the quality of this software. The users get the way to download their things inside chrome with utmost quality and without any sutures. The whole process of downloading feels like you are slicing the Perl off from the onion.
Wrote what a relation I have created! But being serious it is to be noticed that this downloader will give you the whole capabilities to shortly interact with your downloads. And also this one excels the inbuilt downloader of Google chrome!
Other Features Of This Download Manager:
1. Increases downloading speed (attainable speed depends on the number of segments and your network capability)
2. Allows you to continue broken downloads by introducing fresh links
3. Allows downloading from multiple sources
4. Allow you to preview media files while the file is being downloaded
5. Extension-able and can be accessed from other extensions and applications
6. Open source and free
#3 Chrome Download Manager
This lightweight extension inside the chrome browser induced the feature of Firefox downloader that always tend to show up the download in the taskbar. This makes it much handier for the users to check on their download every time while they are surfing the internet or are doing their tasks.
Features:
1. Nice, clean interface to easily access and view info of your downloads in a popup.
2. right click menu for every action on download item(see screenshot).
3. Search your downloads as soon as you start typing.
4. Shows download progress with pause, resume and cancel options.
5. drag and drop the items onto applications
FDM is a fast and reliable download manager and accelerator that improves your experience with downloads and helps you organize them in an easy manner.
Features:
Carries an awesome look
No ads
Can boost your internet downloading speed
Let you track your YouTube and torrent downloads.
This is another awesome download manager you can have on your Google Chrome browser. The extension let users download internet files easily. After adding the extension, just right click on any type of files that are downloadable and it will provide you the option to download.
Features
Right-click download feature anywhere in the chrome browser
Let user download multiple links at once.
Boost your internet speed.
#6 Flash Video Downloader
With Flash video downloader you can download videos and flash videos from 99% of websites. No special skills needed.
Features:
Lets you download video or Flash from any website
The extension is lightweight and doesn't consume much RAM
One click download option to all.
#7 Download Manager
With Download Manager, you can manage and interact with your downloads in quick and easy way. This extension is a part of open source project and the files are available on Github.
Features:
Nice, clean interface to easily access and view info of your downloads in a popup.
Search your downloads as soon as you start typing.
Shows download progress with pause, resume and cancel options.
Desktop Notifications on download complete.
This extension offers integration with Free Download Manager (FDM). By default the toolbar icon is disabled. In this mode, downloads are handled by the internal download manager.
Features:
Downloads are handled by the internal download manager.
You can integrate with FDM
Manage all the downloads in just one click.
#9 Fruumo Download Manager
Fruumo Download Manager (BETA) is the first real download manager for Google Chrome & Chromium Based browsers. It brings DownThemAll's multiple download functionality over to Chrome.
Features:
Pause, Resume, Stop, Remove Downloads
Allow background downloads even after closing chrome
Filter Downloads using the "Create Filter" setting in the settings page.
#10 Universal Download Manager
The Universal Download Manager extension gives you a convenient view and access to your downloads. The Universal Download Manager extension begins to work immediately after the first run.
#11 Downloaders
Well, this is something different compared to all other listed here. This is an external download manager to make direct calls to an external downloader. So, overall, this is one of the best download managers which you can have on your Google Chrome Browser.
Features
Make direct calls to an external downloader
Supports majority of external downloaders
Have support form FlashGet, Internet download manager and more.
#12 Download in IDM
Download in IDM is a web extension that enables you to open and download the desired item like a movie, mp3, mp4 and more with an IDM (Internet Download Manager) application. However, to use this extension, you need to have IDM installed on your Windows 10 computer.
Features:
One of the most useful extension
Directly download files through IDM
Faster download speed
With the help of download master you can download all images, videos, pdf, doc and any other file from the webpage that you are visiting. Not only these, but users can also choose the specific set of files or use the filters to select all records of the same type in a single click.
Features:
Filter based on files type
Show links with link name on the top of the links table
The custom search string is matched in URL and displayed link name
Well, Download All is another best Chrome extension which you can use to manage your downloads. The best thing about Download'em all is that it can download almost all file types from the internet. Apart from these, the download manage is pretty simple to use, and it comes for free. So, Download All is one of the best Chrome Download Manager extension that you can use today.
Features:
The Google Chrome Extension is free to download and use
Users don't need to sign up to the download manager.
The Download Manager can download almost every file type from the internet.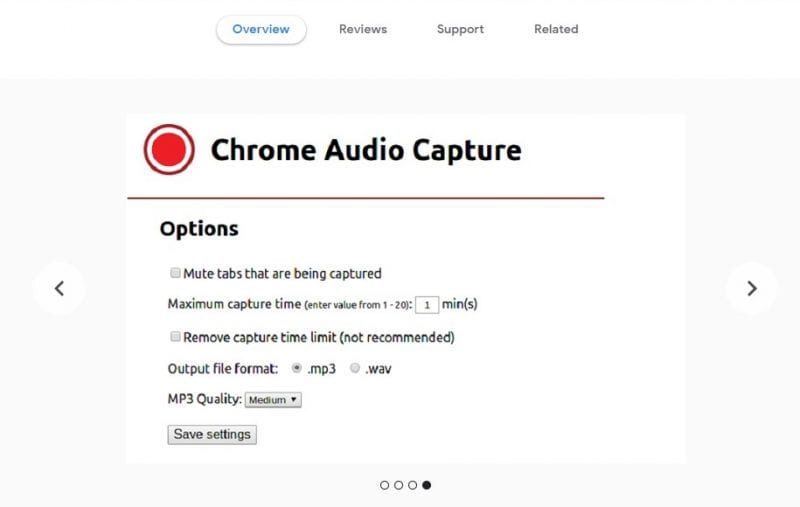 As the name of the extension says, Chrome Audio Capture is an audio downloader extension for Google Chrome browser. The great thing about Chrome Audio Capture is that it can grab any audio playing on the opened tab. Not just that, but the extension is powerful enough to capture audio files from some of the popular audio streaming sites.
Features:
The extension is powerful enough to download audio from any site
You can save the files in different audio formats like mp3, wav, etc.
The extension is completely free to download & use.
As the downloader, issues could left you worth loss of time and your broken download transfers so it is always best to go for the best downloader. The inbuilt version of download manager inside the Chrome is also not that sharply perfect so you must tend to change it with any of the above-listed downloaders. Hope that you have liked this article. For any of your opinions and suggestions regarding the topic, you can comment below!